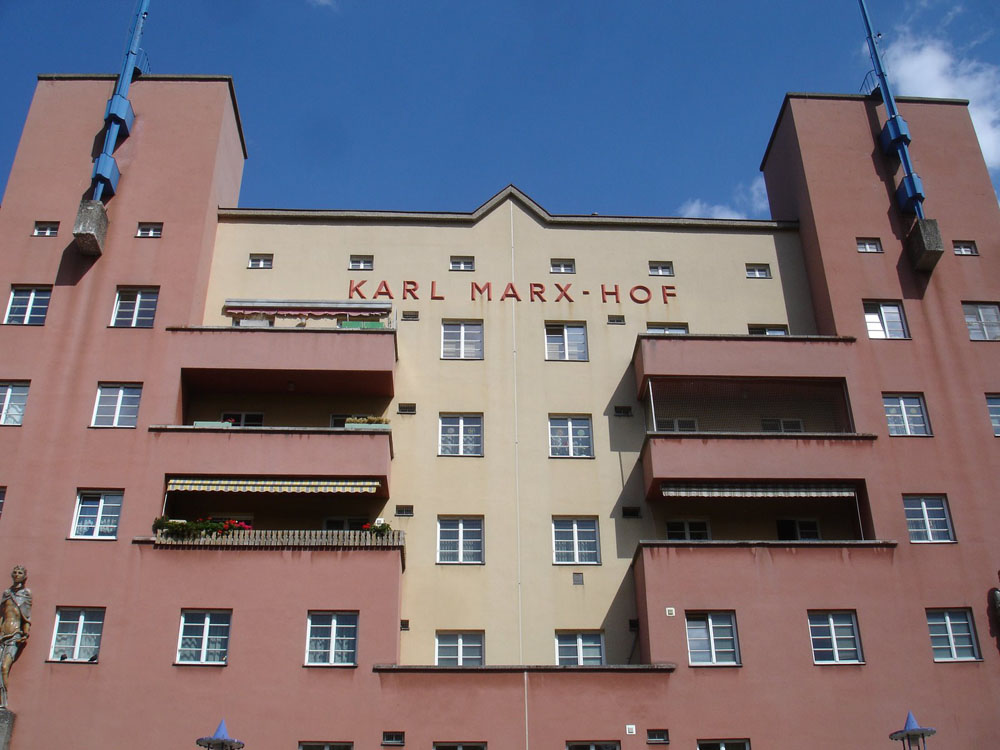 Red Vienna and Habsburg Vienna
Karl Marx Hof the living emblem of Red Vienna Schonbrunn Palace gardens, Habsburg Vienna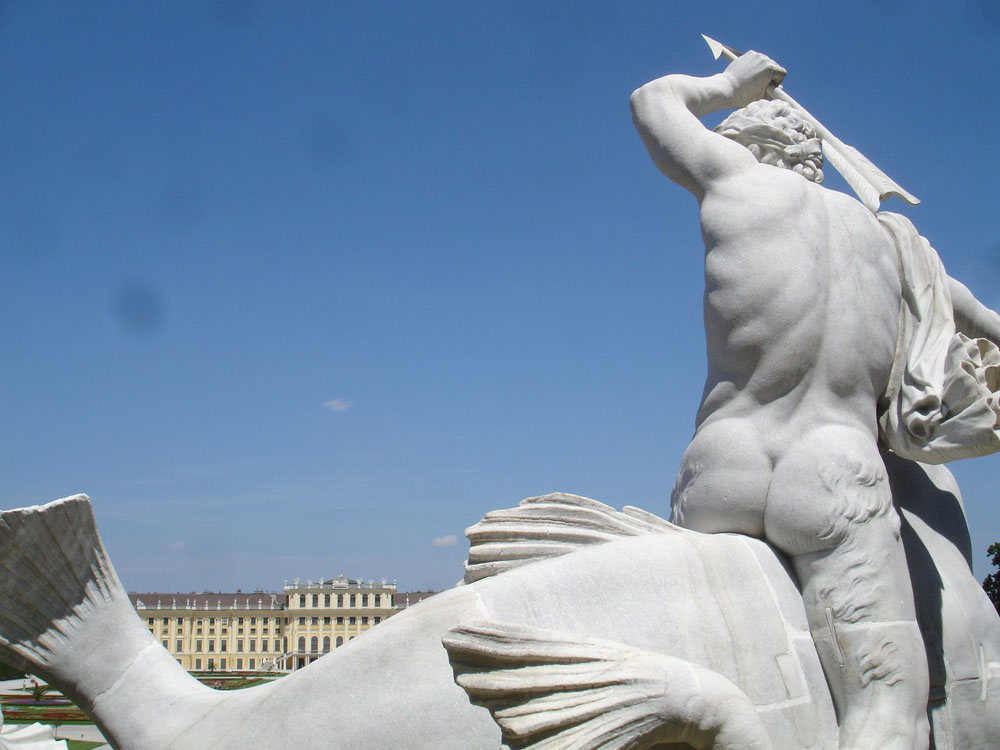 KARL MARX HOF 1927-1932
The largest courtyard is open on the north side to a street. Other courts are entirely enclosed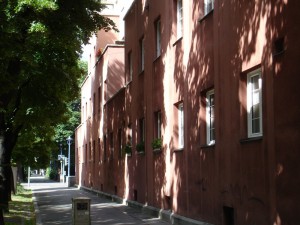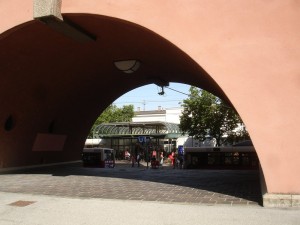 I ended up my first full day in Vienna by taking the U bahn out to the end of one line to see Karl Marx Hof, the best known of the public housing projects of Red Vienna. It is exactly opposite the U Bahn station at Heiligenstadt, and therefore easy for residents to reach. It is beautifully integrated into the city with large courtyards as well as a park open to a street on one side of the central block. The strong geometry gives it a monumental character , but the balconies that contribute strong horizontals are of course for the enjoyment of families living there. The broad arches beneath the upper stories create frequent links to the park.
Karl Marx Hof was built between 1927 and 1930 by Karl Ehn, a student of Otto Wagner's, as a socialist enterprise of over one thousand apartments for workers with many amenities, such as gardens, playgrounds, laundramats, baths, a library, etc. In the February uprising of 1934, it was seen by the new Fascist government as a hotbed of Communism. When the workers barricaded themselves into the building the Fascists bombarded it with artillery and. It was finally repaired in the 1950s.
Schonbrunn Palace
The palace and gardens are obviously based on Versailles, but architecturally weaker. The park seems to include even vaster expanses of gravel between the geometrically planted parterres, and endless arid vistas. No wonder they needed fountains with writhing human figures, giant fishes and rearing horses among splashing water. I struck me that the people in the palace were forced into the most voluminous and constricting clothing, but were allowed to look at all that naked flesh in the garden.
Louis XIV was captivated by Vaux-le Vicomte, arrested its builder Nicholas Foucault for embezzling state funds, and hired the same team to design Versailles. He wanted them to "forcer la nature." But Marie Antoinette, a Habsburg princess was oppressed by the regularity at Versailles and commissioned a more natural Jardin Anglais. She would escape there with her ladies-in waining dressed as milkmaids to enjoy the farm and dairy of the Hameau.
Maybe if Red Vienna had not been suppressed by fascists, the city of Vienna could have integrated public housing into the gardens at Schönbrunn and turned some of the parterres into community gardens. If Michelle Obama can invite children to help her grow vegetables in the White House garden, why could it not happen in the gardens of many palaces.