Eden Project Cornwall
FORERUNNERS OF THE EDEN PROJECT
THE EDEN PROJECT, NEAR ST AUSTELL, CORNWALL OPENED 2001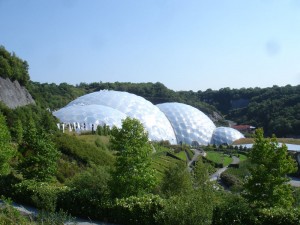 Tim Smit's modest ambitions in 1994 were to build the largest greenhouse in the world, to restore the despoiled landscape of an abandoned china clay pit, and to teach us what we can do to save our planet from ecological disaster. The Eden project shows how his dreams were brought to life with the help of the architect Nicholas Grimshaw and a huge team of experts in many disciplines.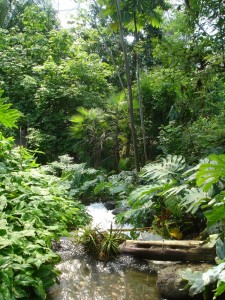 Who would guess that this tropical rain forest, complete with giant trees, a waterfall and a river, as well as dwellings from South East Asia and Africa, exists inside a humanly made structure? We can walk through this hot, steamy forest, beneath a giant roof and feel as if we are deep in a real forest. We perceive the humid atmosphere becoming more intense as we reach the highest point on a winding path. We can focus on the treetops that almost obliterate the structure above or look down to enjoy the beauty of brilliant flowers.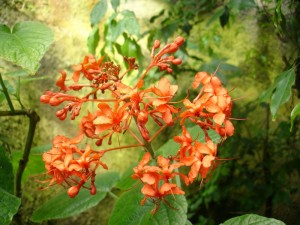 There are many demonstrations of ecological principles and pointers about what we need to do to create a healthier balance in the way we live. Many small displays that don't seem to interrupt the grand scheme tell us about how we can improve the lives of small farmers and at the same time help the survival of the planet. Other exhibits warn us about our misuse of resources and the causes of environmental degradation.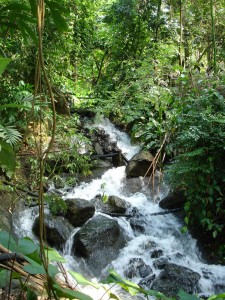 A few days after my walk through the biomes in Cornwall I was at Kew gardens and was able to make comparisons. The Royal Botanical Society has not just created a large, pretty garden, but also a vast scientific organization working all over the world both to study plants and to help them to flourish in their natural habitat. They even have a vast seed bank to store seeds of plants that may become extinct. I went on a guided walk, eloquently led by Mrs. Insall who focused on plants from olive trees to neem that have changed human life. Many of her examples were plants with medicinal use. So I discovered that Kew and Eden have much in
common. In the Palm house, a great design by Decimus Burton (1845-6), I found a big difference. While at the Eden Project we can experience the illusion of complete environments in the hot humid tropics or in Mediterranean climates, at Kew we only find a neatly arranged collection – though a fascinating one – of different species. I remember feeilng enthralled when I first saw the Princess of Wales Conservatory at Kew by Gordon Wilson (1986) which recreates the plant life of different climatic zones from desert to rain forest. But now, after seing Tim Smit's creation in Cornwall, it seems quite limited.
I found it amusing to note that the slightly earlier Great Conservatory at Syon Park (1839-31) by Charles Fowler is arranged on a Palladian plan with a central, glass-domed structure symmetrically flanked by curved links to wings on eithers side. The architect of this innovative structure could not shake the desire to follow a sanctified historical type